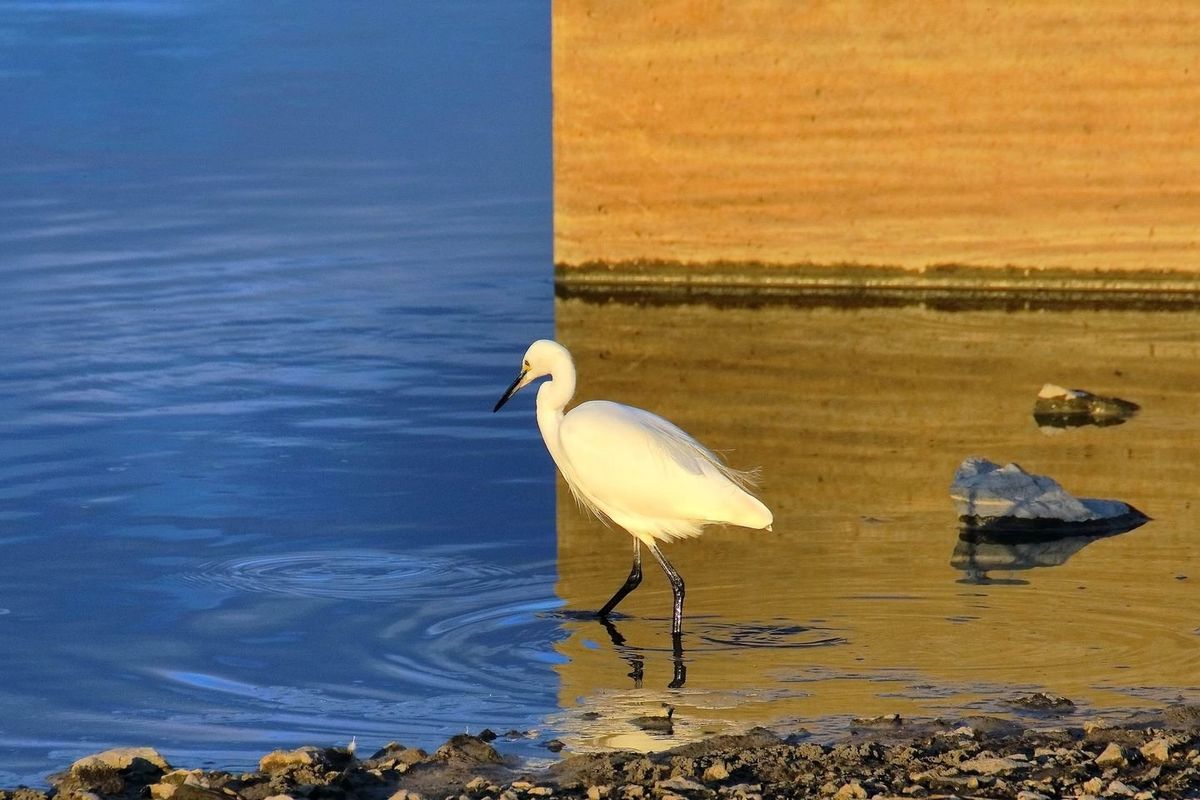 Japanese photographer Kenichi Ohno has viewers scratching their heads with his seemingly doctored image of an egret stepping into shallow water. After receiving an honorable mention in the Nature in Japan photo contest organized by the All-Japan Association of Photographic Societies (AJAPS), the image went viral as folks tried to suss out whether or not it was the work of some kind of tech wizardry.
The photo, titled "Gap," is in fact real. No Photoshop. No A.I. Just good ol' fashioned photography know-how.
---
Taking a glance at the image below, it immediately looks as though the egret is superimposed against two different backgrounds. Or perhaps the colors were changed using editing software.
However, in reality, the sun is hitting a wall (seen in the top right corner) at just the right angle so that the wall casts its reflection in the water. The wall is also yellow tinted, explaining the stark color contrast.
Still confused? Fret not. On its Facebook page, AJAPS provided a pulled-back photograph of the location, where the wall is clearly visible. Seeing the top of the wall and without the egret really puts things into perspective.
That certainly helps, doesn't it?
And if things still aren't clicking, this diagram really differentiates the different elements at play.
There. That makes sense, right? Phew. We got there.
You're not alone. Folks online were just as baffled, intrigued and exhausted after finally figuring it out.
"I SAW IT! I SAW IT! I SAW IT AT LAST!" a person exclaimed on Reddit.
Another wrote, "Wowwwwwww…took me 5 whole minutes of shouting 'wtf???' Before I saw it. This one is really good."
"It seems inexplicable until it clicks, and then suddenly you wonder how you could have seen anything but what it is," wrote another.
Some people, even after figuring out how it worked, couldn't quite get their minds to believe it.
"After reading all the explanations I understand what it is…But I can't bring my mind to reconcile this image," one person commented.
I think this Reddit user pretty much summed up what we were all feeling in this statement:
"Brains are funny."
On the contest website, AJAPS called the photo "amazing" and applauded its "strong impact." Judges complimented the effort Ohno must have put in to be in the right place at the right time with near-perfect conditions (apparently this shot would have been impossible on a windy day).
"It teaches us that a small change can make a big difference in a photo. It's difficult to shoot nature when there are man-made objects, but in this case they play a good supporting role and enhance the photo," the site said.
Indeed, make one small change and give the internet's most mind-boggling optical illusion to date. Well done, Ohno.