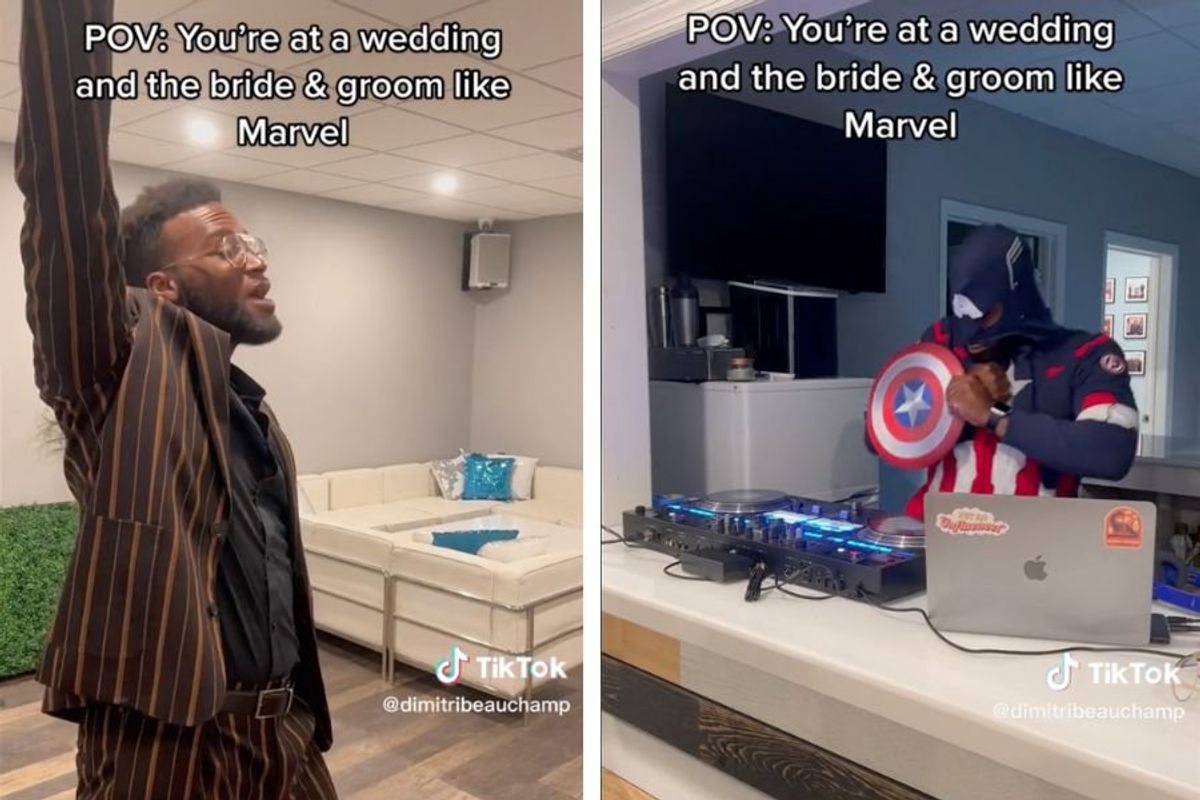 There are those people who like certain franchises and those who would literally design their entire house around their particular fandom. It's a fine balance between loving something and it becoming part of who you are as a person, but for some, they're totally cool with everything being Harry Potter. I may or may not have tried to convince my husband we needed an Avengers bedroom set. In my defense, they make them up to king size, so clearly they're for grown-ups.
If you're one of those people like myself that has a borderline unhealthy love for all things Marvel, then you will be in for a treat and quite possibly a new wedding DJ. Dimitri Beauchamp has been mixing up tunes for wedding receptions and posting short clips on TikTok. But it's not just regular dance music. Beauchamp mixes in people's favorite franchise theme songs making the hits even more epic.
---
In a video posted in February, Beauchamp mixed the "Star Wars Imperial March" with the old-school hip-hop song, "Hip Hop Hooray" by Naughty by Nature and "This Is How We Do It" by Montell Jordan. The video garnered over 1.3 Million likes but his jams don't stop there.
@dimitribeauchamp

I mean, I would like this mix😂 #starwars #starwarsedit #thisishowwedoit #oldschool
The DJ has a mix for just about every fandom you can think of, from "Fairly Odd Parents" to "The Mandalorian." Of course, my personal favorite is his mix of "The Avengers" but there's something for everybody and he tailors his mixes to the bride and groom.
@dimitribeauchamp

Replying to @starwars If you just pictured Pedro Pascal dancing to this, you're welcome #themandalorian #themandalorianedit #starwars #stankyleg #wedding
The videos Beauchamp posts aren't from actual weddings. He uses his kitchen bar as a DJ stand and takes on the role of the DJ and wedding goer for his skits. But the short one minute or less clips aren't enough for people that visit his page. Beauchamp has his some of his mixes available for download on Sound Cloud, so you can blast your favorite mix on your way to work.
@dimitribeauchamp

Marvel's soundtracks are always🔥 #marvel #marvelstudios #avengers #oldschool #wedding