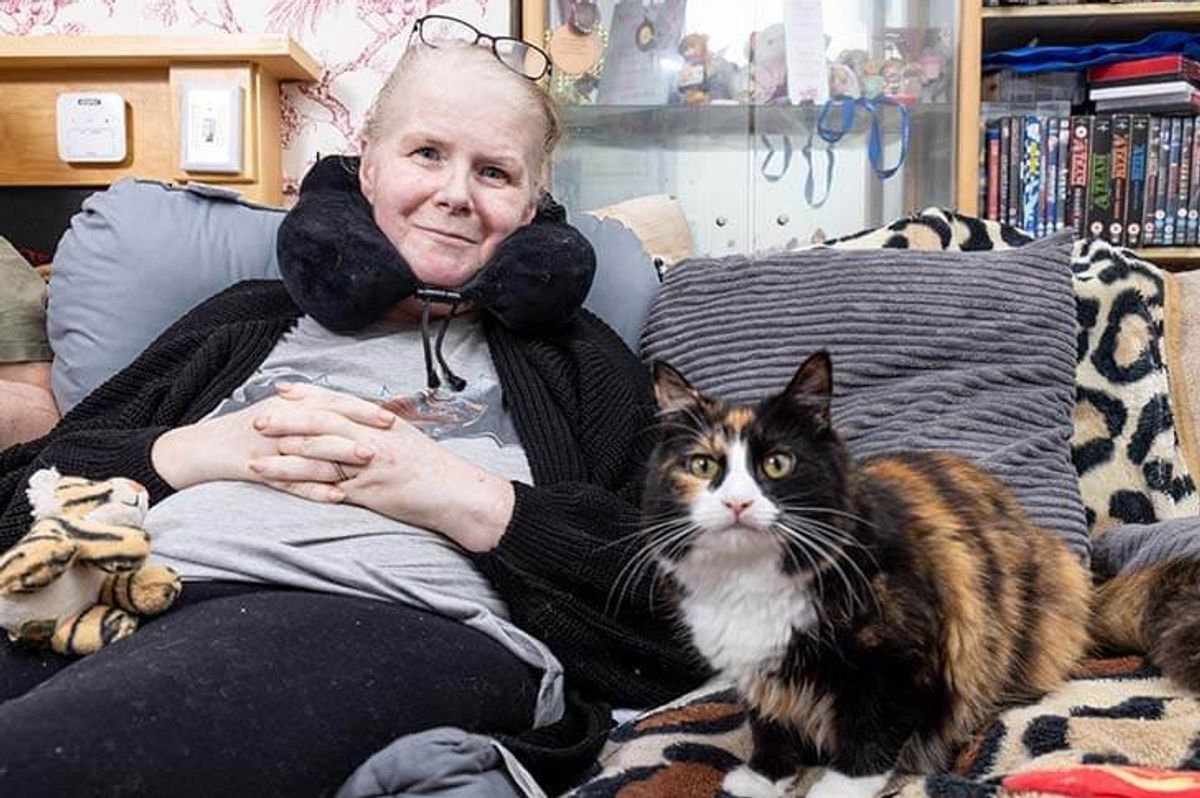 Cats, like adorable, four-legged therapists and nurses, have an uncanny ability to pick up on subtle changes in our emotions and health. Research suggests that their tremendous sense of smell allows them to sense illness in humans, often before we know we're sick.
The feline olfactory system is 14 times more powerful than a human's, so cats can detect subtle differences in someone's scent that may indicate if there is something wrong with their health.
An incredible example of this sense put into action comes from Liverpool, England, where a cat named Willow saved her owner's life by noticing when she wasn't well. Amanda Jameson, a 51-year-old diabetic, went to bed one night with dangerously low blood sugar. Somehow, Willow noticed something was wrong with her, so she went to get help.
---
Willow found her partner, Ray Sherwood, 57, asleep watching television. Willow nibbled on Sherwood's legs to get his attention to wake him up. "I had fallen asleep in front of the TV and then around 4 am, I was woken by Willow biting at my legs and jumping at me," Sherwood told The Independent.
"It was very out of character for her and made me get up to see what all the fuss was about," he continued. "She was running between me and the stairs, looking back at me. I followed her up the stairs and she kept looking back at me to make sure I was coming."
When he got to the bedroom, he found Jameson slumped over. She was unresponsive, so he called an ambulance. When she arrived at the hospital, doctors said she was close to slipping into a diabetic coma. But thanks to Willow's bravery, she was saved just before her condition took a turn for the worse.
It's impossible to know how long someone can last in a diabetic coma, but if untreated, it can eventually lead to brain damage or death. Jameson believes that since her scare, Willow appears to be worried about her health.
u201cWillow the cat who saved diabetic owneru2019s life among finalists in National Cat Awardsnhttps://t.co/wEHsPNO0KZu201d

— The Independent (@The Independent)
1682056560
"Since I came home from the hospital, she has become very protective of me. I've noticed how she puts her nose to my mouth a lot. I think she's checking I'm breathing," she told The Independent.
Willow's quick thinking has earned her the honor of being one of the 12 finalists for The National Cat Awards sponsored by Cats Protection, the UK's biggest cat charity. Willow is nominated in the Moggy Marvels category for those who've displayed their "moggy brilliance."
She's up against two other cats in her category. Beau, who's taken care of an owner with blood cancer, and Dali, who went missing for a month and was found marooned on a tiny patch of rocks in the Bradford Beck River.
In the UK, "moggy" refers to a typical domestic house cat that's often mixed-breed. Similar to how Americans refer to a run-of-the-mill, mixed-breed dog as a mutt.
Whether or not Willow wins the award, she'll be loved by her owner all the same. "I love her more than anything," Jameson told CBS News. "I can't thank her enough, and she is the world to me."