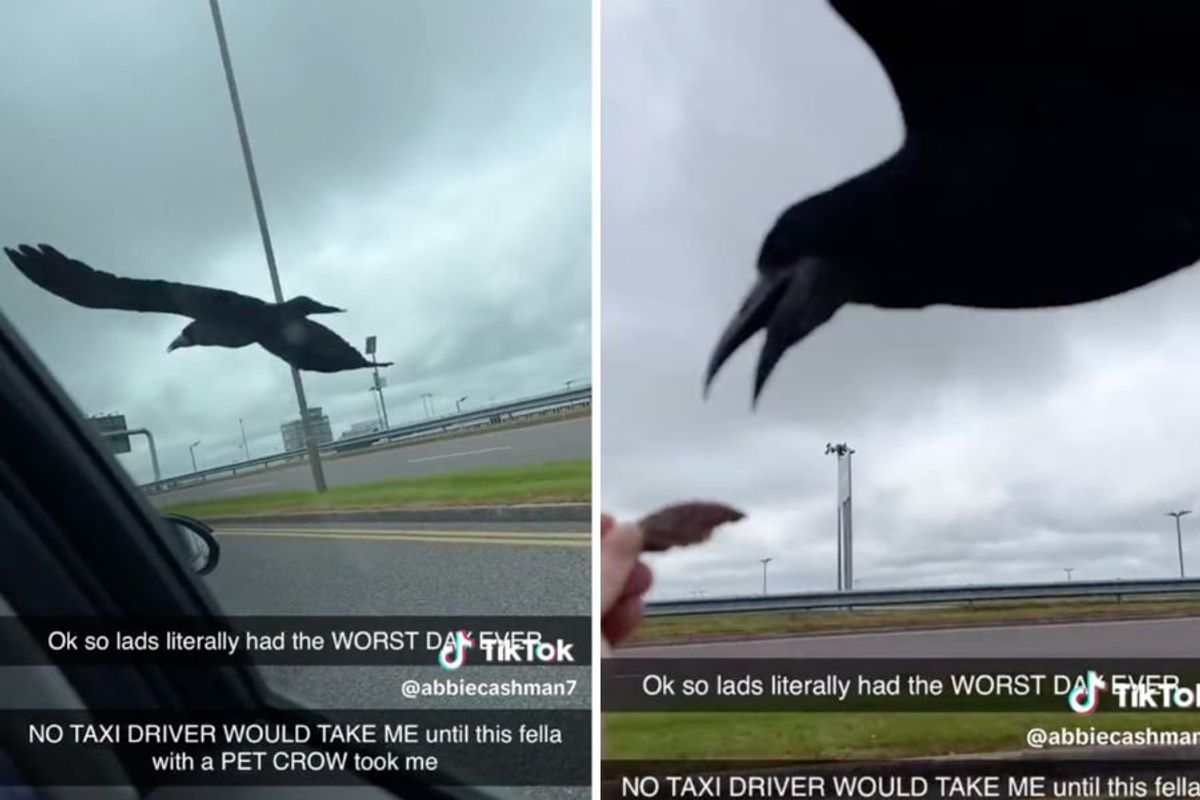 Sometimes the best cure for a bad day is a good surprise.
Just ask Abbie Cashman, a woman in Ireland whose entire day was completely turned around the minute she began feeding a pet crow from the window of her taxi. Cause why not?
In an interview with Today, Cashman shared that after discovering she had a flat tire while at work, the planets seemed to align so that getting home was impossible. No taxi would take her. The bus was full. Luck did not seem to be on her side.
Cashman made one last attempt to book a taxi through a rideshare app. Finally, someone was able to pick her up.
Little did she know that the taxi driver would not only get her home, but also introduce her to a special winged friend to lift her spirits.
---
The video below shows Cashman yelling "OH MY GOD…is that actually your crow?" in utter shock as the bird buzzes about her window.
The taxi driver clarifies that the crow is more of a companion than a pet, saying that it knows to follow him around for treats.
He then prompts Cashman's open her window and reach out to her with a snack to feed it. As she does, she can't contain her delighted squeals. Especially once the crow swoops in for a nibble.
Watch:
This brief encounter turned Cashman's day from "literal hell" to something so delightful that she couldn't help but share the experience on TikTok. Clearly, she wasn't the only one who appreciated the unexpected moment. The clip has now amassed over 4 million views, with oodles of comments from people expressing their glee.
"This is a story NOBODY would have believed if it wasn't for this video," one person wrote. "Pure class. Your laugh is pure joy."
Another added, "This is simultaneously the most chaotic and the best thing I've ever seen.
As for the taxi driver…folks are calling for him to have six stars. immediately.
Perhaps this interaction shouldn't come at that much of a surprise. After all, crows are notoriously clever birds who like to collaborate with humans. They're known to recognize faces (hence why this crow was able to follow the taxi driver), they're quite loyal and have been trained to do extraordinary things.
Still, certainly no one would hop into a cab thinking they'd get to feed one on the way home. We all need a bit of astonishment infused into our day, especially on the cruddy ones. Very cool that Cashman got the perfect dash of magic to brighten her day…and that the internet exists, so we nac enjoy it too.